Fun Graduation and Birthday Party Ideas for Stir Crazy Kids - Austin TX Inflatable Bouncy House Rentals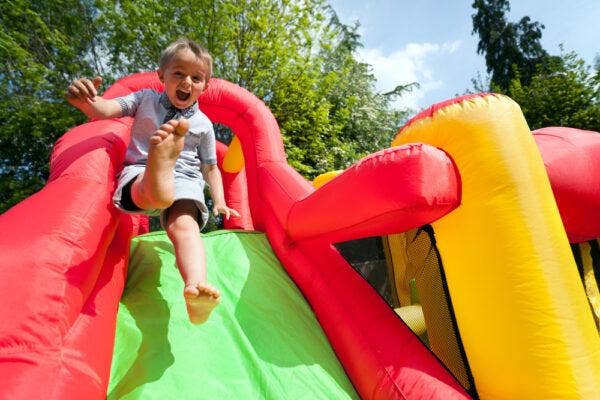 Let's Not Forget the 'Current Events' that Aren't on the News
We've all spent a lot of time lately talking about handwashing, face masks, and ventilators. We've all been doing our best to keep up with physical distancing, and trying to not hoard all of the toilet paper. But life is still happening, despite the current events on the news.
And it's those
other
current events—the personal ones our families care most about—that shouldn't need to fall by the wayside.
We should all be taking our health and the health of our family members seriously. But most families aren't practicing physical distancing or social distancing at home. How can they? And if you're already in close quarters with others, there's no reason you can't have a small, private graduation party or birthday party at home.
Your kids deserve to have fun, memorable parties. They may not be able to invite all of their friends over, but they can still have a fun celebration to mark their special day.
Buying or Renting Fun Party Equipment on a Budget
Call us biased (we literally have "bounce house" in our company's name), but we think fun inflatables and inflatable games are must-haves for any child's birthday celebration. Give a child a bounce house, inflatable water slide, bounce-slide combo, slip and slide, or inflatable obstacle course and they're sure to have an exciting experience they won't soon forget.
Not everyone reading this can buy or safely store a full sized Vinyl Crossover Inflatable. If that's the case, please consider renting from a local small business that's been struggling from all this physical distancing we've been doing. Their business needs your help, and you need your kids to have an excellent birthday party. Everybody wins!
If you do plan on owning your own vinyl crossover inflatable, Lonestar Moonwalk Austin Bounce House has a huge selection of all those different styles of bouncers we mentioned earlier. We also have fun sealed air frame games and carnival games, too.
Buying a bounce house or other vinyl inflatable is a big undertaking, but if you plan on setting it up often, it's a lot more cost effective to buy a bounce house than to repeatedly rent them. They're heavy and cumbersome, but generally manageable, especially if you have someone who can help you.
Our bouncers are made from heavy duty vinyl, the sort of material you'll find in those bounce houses for rent from businesses in your area. While a bounce house or inflatable water slide you might buy in a retail store will last a summer, a Vinyl Crossover Inflatable from Pogo will last a childhood.
Give Lonestar Moonwalk Austin Bounce House a Call Today!
At Lonestar Moonwalk Austin Bounce House, we're dedicated to helping your kids enjoy fun, safe, physically rewarding activities outdoors. Most companies will stand by their products, but Pogo? We let our own children jump in them.
Pogo has a knowledgeable staff of bounce experts who are more than happy to help you find the perfect products for birthday parties, graduations, school groups, church functions, and more. And most of us are parents, so we know how to make recommendations that truly matter. Give us a call today at <1-512-743-5560/>
Details